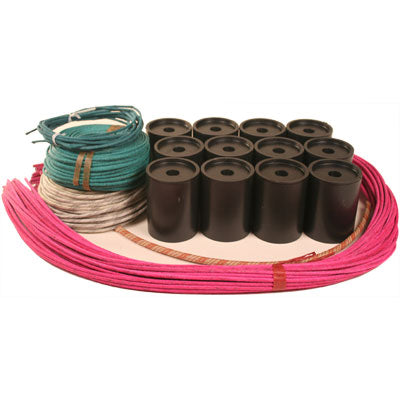 2-inch Cylinder Shell Kit VISCO
Make your first aerial shells from start to finish in an hour or less! This kit uses plastic shells which are glued and taped. They make a beautiful "sky mine" effect using short pieces of flying fish fuse, instead of stars.

It's really easy to simply cut the pieces of flying fish fuse that come in your kit to use as "poor-man's" stars. This is a fast, simple and uncomplicated way to learn basic shell construction.

You get enough materials to make 12, two-inch crackling flying fish canister shells.

All you have to do is supply the black powder or black powder on rice hulls, and a 2-1/2 inch mortar tube.

Each kit contains:
Flying Fish Fuse, (Our Choice of Color) 90 feet
Fast Artillery Fuse, 40 feet (GN1100)
#5 Plastic Shells, 12 sets (PL1020)
Premium Visco 1/8 inch. 20 inches

Green Visco Cannon Fuse 20 Feet.
You can either get PVC glue locally or methylene chloride to glue your shells together.

You will need to either buy the black powder for this project, or make it yourself. If you don't have a ball mill to make your own BP, order the Red Gum Black Powder Kit

Or you can make a more powerful black powder with a ball mill, lead balls, and the Black Powder Chemicals Kit

Don't forget, you'll need at least 2.5-inch ID (#100) mortar tubes, black powder, and some supplies you probably already have at home (be sure and read the project tutorial before you start).
Click Here To Learn: How To Make Plastic Shells Quick And Easy
Part #KT0041