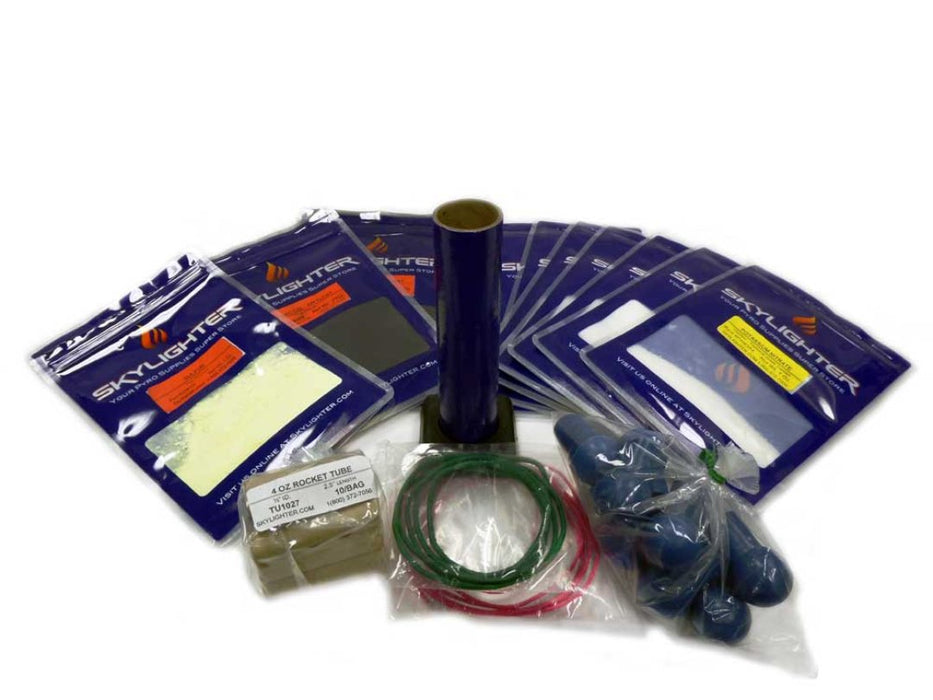 Shell and Rocket Training Kit (learn to make fireworks the easy way)
Skylighter has been teaching people just like you how to make their own amazing fireworks for 20 years! We learned over that time the fastest way to get someone up to speed and able to create fireworks that WOW their friends and family. 
Making fireworks does not need to be a complex, or dangerous process. You just need the right materials, the right teacher and the right instructions which is why Skylighter created the Shell and Rocket Training Kit! It's a complete set of instructions, chemicals and materials to get you started the right way.
With this kit you'll be building amazing fireworks in a weekend guaranteed!

Better yet, you'll learn the process for making fireworks which will extend to all future projects cutting out years of failure and frustration.
Each Kit Contains:
Potassium Nitrate (8 oz.)

Air Float Charcoal (1.5 oz)

Sulfur (1 oz.)
Visco Safety Fuse (4 ft.)
Plastic Shells / Rocket Headings (10 sets)

4oz Rocket Tubes [short size] (10 tubes)
Cardboard Mortar Tube (1 ea.)
Plastic Mortar Base (1 ea.)
Effects Fuse (9 ft.)
1/8th Drill Bit (1 ea.)
You can do this! Skylighter's Shell and Rocket Training Kit and Guide Project will walk you though every step. 
You get enough materials to make 10 rockets and 10 Shells or combine some of your rockets and shells to make impressive rockets with headings! 


Part #KT1220

Don't forget to print out the supplies checklist found here.