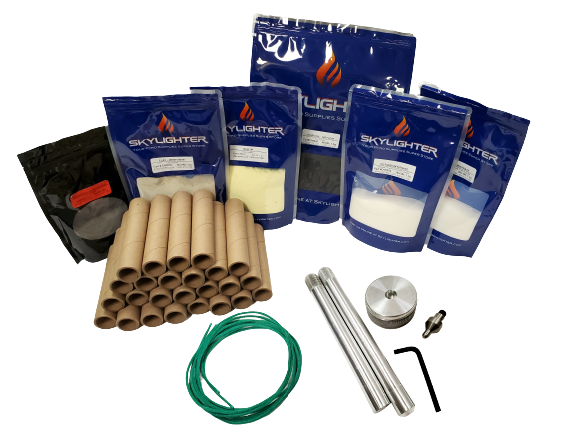 Westech Silver Fountain Kit
1# Westech Fountains are easy to make with this kit. 
Each kit contains everything needed to make 25 Westech Fountains.

Potassium Nitrate, 2 pounds (#CH5300) 

Airfloat Charcoal, 1 pound (#CH8068) 

Sulfur, 1 pound (#CH8315)

Bentonite Clay, 1 pound (#CH8078) 

Titanium Powder, 1 pound (#CH3113) 

Visco Fuse, 10 feet (#GN1019) 

7.5" Parallel Tubes, 25 (#TU1068) 

3/4" - 1# Fountain (Gerb) Tool Set (TL1110)
Formula Calls for:
55% Potassium Nitrate
27% Titanium Powder
9% Airfloat Charcoal
9% Sulfur 
You save 20% off the retail prices of the individual components when you buy this kit.
Project coming soon!
In the mean time definitely check our articles on Making Fountains & Colored Fountains 
Kit will ship in 2 boxes
Part # KT0210