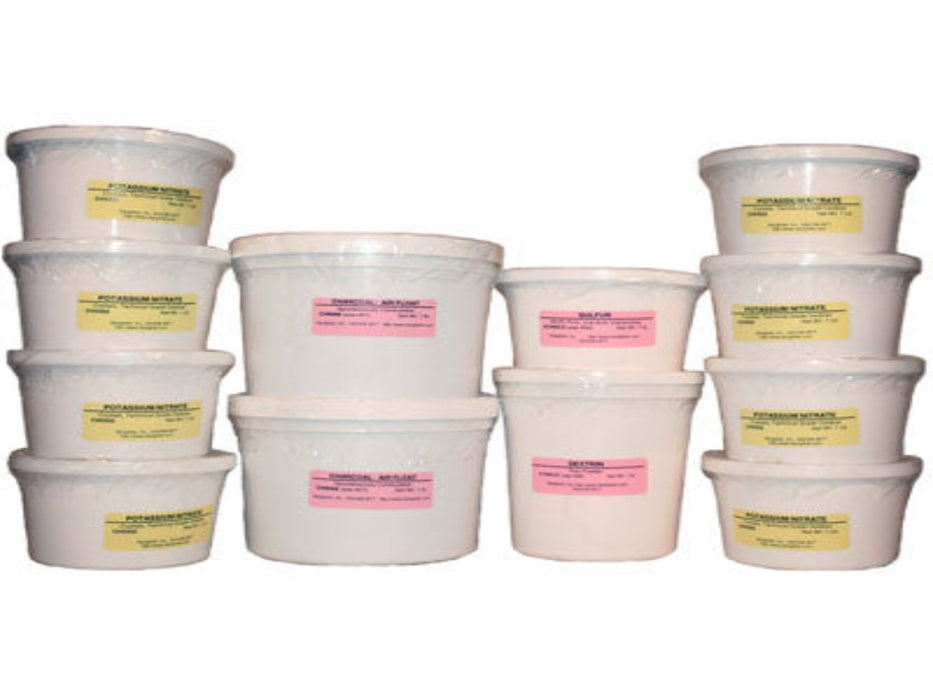 Black Powder Chemicals Kit - Makes 10 lbs. Black Powder
Want to make black powder yourself? This kit contains enough chemicals to make 10 lbs. of black powder. This saves you about 20% vs. buying the chemicals individually.

Important: Buy this kit if you are using a ball mill to make your black powder. For this method, you will need a ball mill, lead grinding balls, and screens for granulating the powder.

With this kit and a ball mill you can make every kind of black powder from superfine meal powder to 2FA lift powder. Be sure you have screens with the right mesh size for the granulation of black powder you want to make. A 100-mesh screen will work for meal while a 4-12 mesh screen will make your lift.

If you do not have a mill, and will be making your black powder by hand, you should buy the Red Gum Black Powder Chemicals Kit instead.

Each kit contains: 
- Potassium Nitrate, 8 lbs. (#CH5304) 
- Sulfur, 1 lbs. (#CH8315)
- Airfloat Charcoal, 2 lbs. (#CH8068) 
- Dextrin, 1 lb. (#CH8107)

You get the 3 chemicals needed to make black powder, plus a pound of dextrin for granulating your black powder. No other chemicals are needed. 

Click here for instructions on making Black Powder using a ball mill.
Part #KT0700