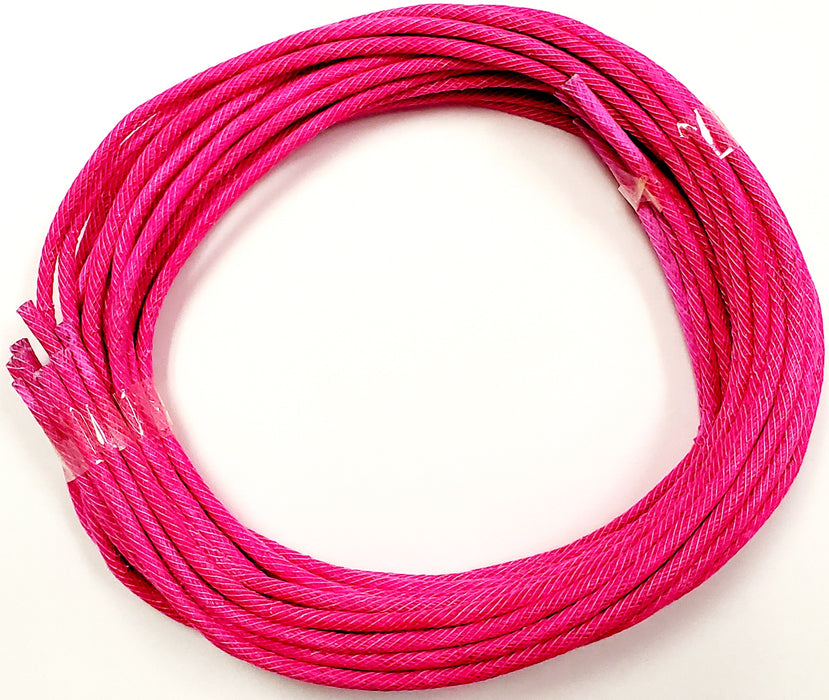 Medium Pink Fuse 10 sec/ft, 20ft.
Length:  2
0
 Feet 
Burn Rate: 9.5-10 sec/ft 
Diameter: 3/32" (3mm)
Pink medium speed visco is excellent for controlling the tempo of your fireworks display. Use it to chain festival ball mortar shells together to make your Fourth of July display more artistic and fun.

When fast yellow visco is too fast, and green slow visco is too slow...medium pink visco is just right.

Pink, 3mm diameter, Chinese-made fuse. Burns at approximately 9.5-10 seconds per inch (2-3 times faster than standard green visco). It is colored pink so you do not mix it up with other, slower-burning fuses. Gives a lot of fire, not coated with nitrocellulose lacquer so it takes fire easily.

DO NOT USE THIS FUSE IN PLACE OF STANDARD VISCO--IT BURNS FASTER. 

NOTE: Fuse speed varies roll to roll. The actual burn time may be faster or slower than listed in the descriptions above. Some rolls of this fuse burn much faster than the approximate timing above. Always burn and time a 1 foot length of fuse to ensure the burn time is accurate for your application.
Part # GN1013