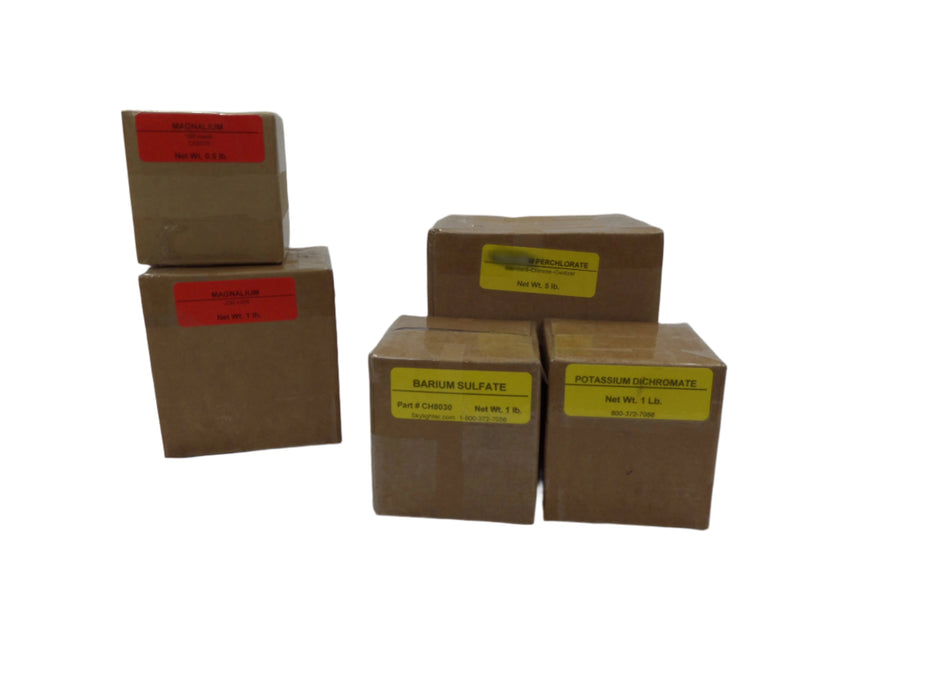 Welcome Experienced Pyrotechnics!
If you're looking for a deal on Strobe composition you've come to the right place!
Buying this Kit saves you 20% rather than buying the chemicals separately.
Below are the chemicals you need to make some tremendously violent and exciting White Strobe Fuel! 
Each Kit Contains (KT2000):
- Ammonium Perchlorate 5 Lb.  (CH5000)
- Barium Sulfate 1 Lb. (CH8030)
- Magnalium 1 Lb.  (CH2073)
- Magnalium 1/2 Lb.   (CH2065)
- Potassium Dichromate 1 Lb.  (CH5525)
You'll have enough to make approximately 6 pounds of fuel.
Please note this FUEL ONLY: This does not include any tooling or rocket tubes. 
Make sure to check out our articles on: "How To Make Strobe Rockets" or "How To Make Flashing Fireworks Strobe Pots" for any tips and tricks!
IMPORTANT SAFETY NOTES: 
-Do not attempt to make any kind of Strobe device without a rocket press. Strobe composition is SHOCK SENSITIVE. Ramming (hammering) Strobe composition into a tube can result in a catastrophic explosion.
-It is best to work on Strobe fuel outside with proper eye and hand protection.
*Ships in 2 separate boxes.
Part# (KT2000)