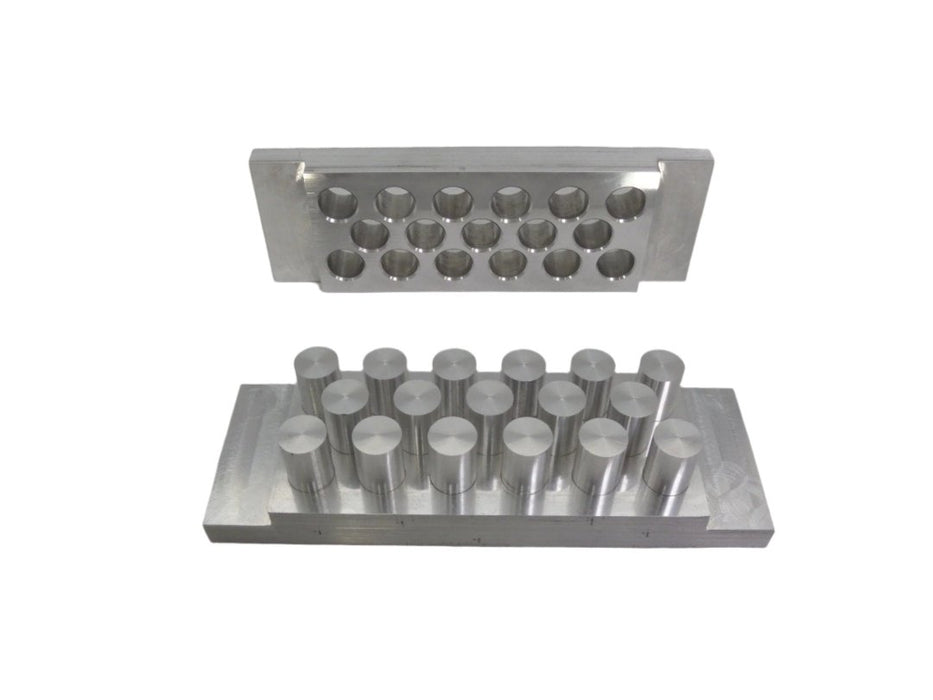 1/2" Star Plate - 17 holes
This 1/2" star plate is a fast and simple way to produce large numbers of uniformly sized cylindrical stars quickly. Each set consists of a bottom, female plate (5/8ths" thick) and a top, male plate.

These star plates are made to our exact specifications by a talented toolmaker (and fireworks builder) right here in the good ole US of A. They measure 6"x2"x1.25" and have 17 precision pins for pumping stars fast.
These no-frill star plates are all metal, no plastic parts that can fail over time. CNC machined from aluminum these plates will last a lifetime. 
Note: Skylighter offers two grades of star plates: Our Standard 1/2-Inch Plate which pumps 17 stars at once with a 5/8ths depth. Standard plates are perfect for any fireworks maker who wants a quality tool at the best price. 
We also offer a Premium 1/2-Inch Star Plate which pumps 23 stars at once with a full 1-inch depth in the female plate. Our premium plates undergo several additional finishing steps to make them an absolute pleasure to hold and use. If you plan on pumping a lot of stars our premium plates are a fantastic choice.

To learn more about making Rolled, Cavity, Cut & Pumped Stars, 
Check out our Star plate instructions here.
Part #TL3006