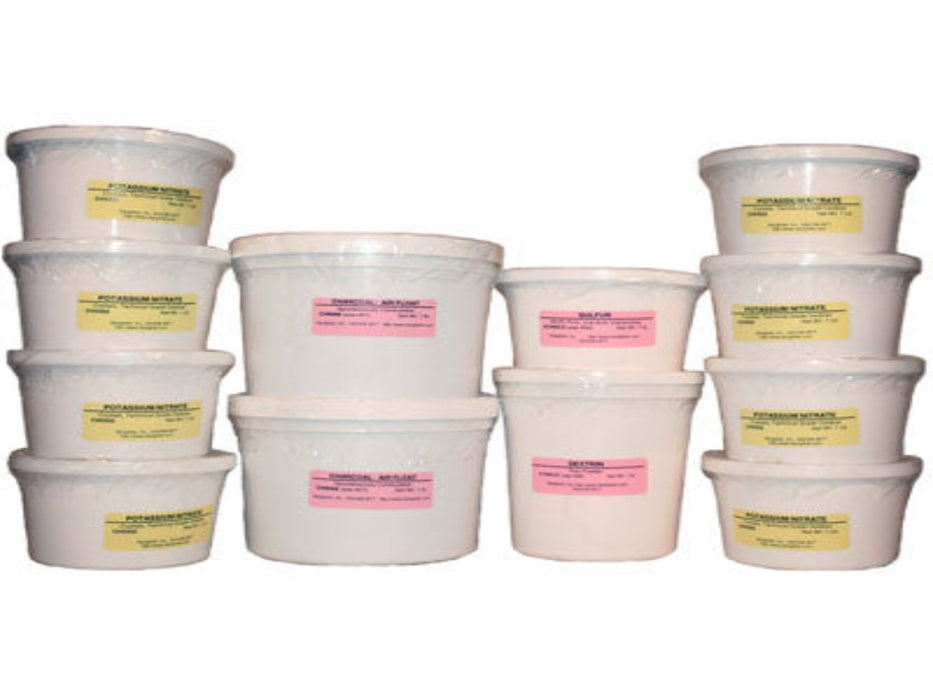 Black Powder Chemicals Kit - Makes 10 lbs. Black Powder
Want to make black powder yourself? This kit contains enough chemicals to make 10 lbs. of black powder. This saves you about 20% vs. buying the chemicals individually.
Important:
 Buy this kit if you are using a ball mill to make your black powder. For this method, you will need a ball mill, lead grinding balls, and screens for granulating the powder.
With this kit and a ball mill you can make every kind of black powder from superfine meal powder to 2FA lift powder. Be sure you have screens with the right mesh size for the granulation of black powder you want to make. A 100-mesh screen will work for meal while a 4-12 mesh screen will make your lift.
If you do not have a mill, and will be making your black powder by hand, you should buy the 
Red Gum Black Powder Chemicals Kit

 
instead.
Each kit contains:
- Potassium Nitrate, 8 lbs. (#CH5304) 
- Sulfur, 1 lbs. (#CH8315)
- Airfloat Charcoal, 2 lbs. (#CH8068) Until January 2024 we will be substituting for 
   80 mesh Charcoal. 
- Dextrin, 1 lb. (#CH8107)
You get the 3 chemicals needed to make black powder, plus a pound of dextrin for granulating your black powder. No other chemicals are needed. 
Click here for instructions on 
making Black Powder
 using a ball mill.
 PLEASE NOTE:
Skylighter is sold out of airfloat charcoal until December. We will be sending 80 mesh charcoal in its place. Not to worry! This works just as well as airfloat charcoal to make high quality and powerful black powder. If you follow the instructions on our black powder ball milling procedure, all you'll need to do is fill the barrel about half full with lead or brass balls, then add in the amount of charcoal you need using our 80 mesh charcoal.  Mill that first for 3 hours. The charcoal will convert to airfloat. Take the barrel off the rock tumbler, add in the remaining nitrate, sulfur, and dextrin, and close it back up to continue milling for another 4 hours. This will give you great results using the tumbler barrel shown in the instructions. Plus, the 80 mesh charcoal is a little easier to handle and pour than the airfloat, so it makes loading a little less messy.
Part #KT0700