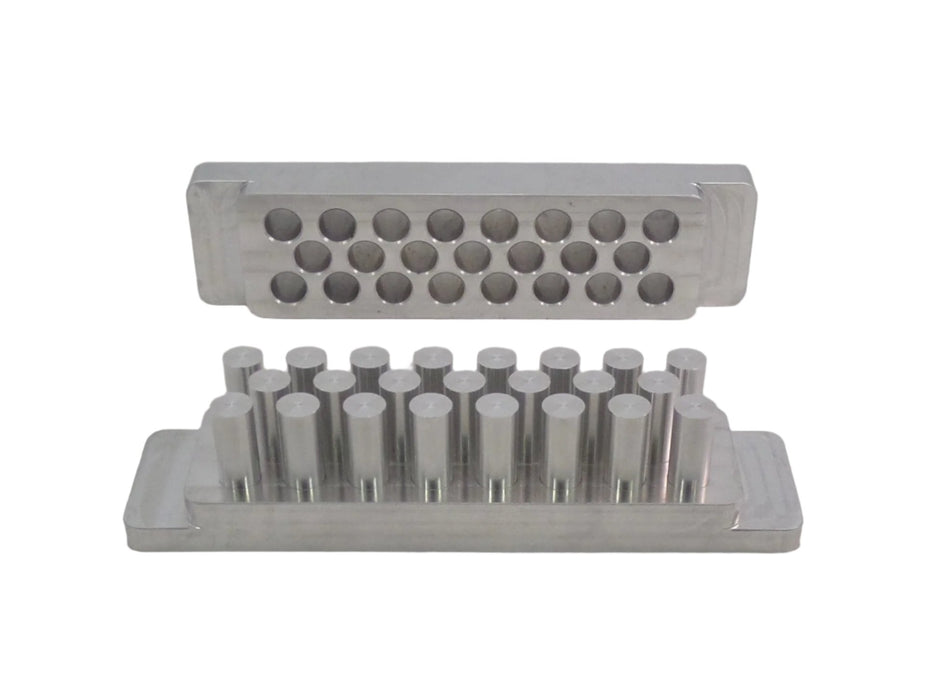 Premium 1/2" Star Plate - 23 holes
This 1/2" star plate is a fast and simple way to produce large numbers of uniformly sized cylindrical stars quickly. Each set consists of a bottom, female plate (1-Inch deep) and a heavy top, male plate (3/4-inch tall). 

These Premium Star Plates are made to our exact specifications by a talented toolmaker (and fireworks builder) right here in the good ole US of A. Extra attention is given to every aspect of these star plates making them a true pleasure to use. They measure 8"x2"x1.75" and have 23 precision pins for pumping stars fast. 
Similar to our standard pumps, these star plates are all metal, no plastic parts that can fail over time, CNC machined from aluminum these plates will last a lifetime. 
However, our premium star plates have deeper canities (to make loading and pumping faster), more weight (for hand-consolidation), and smooth rounded corners and handles (more pleasurable to use). If you've ever spent an afternoon pumping hundreds of stars you can appreciate these additional features. 
Note: Skylighter offers two grades of star plates: Our premium plates have all the fit and finish of a tool you look forward to using. They have a full 1-inch female depth and pump 23 stars at a time. There is a lot of extra time and material invested in our premium tool line but for serious pyros they truly are an absolute pleasure to hold and use.
We also offer a Standard no-frills 1/2-Inch Plate which pumps 17 stars at once with a smaller 5/8ths depth. Standard plates are perfect for new fireworks makers and anyone wants a quality tool at the best price. 
To learn more about making Rolled, Cavity, Cut & Pumped Stars, 

Check out our Star plate instructions here.
Part #TL3005