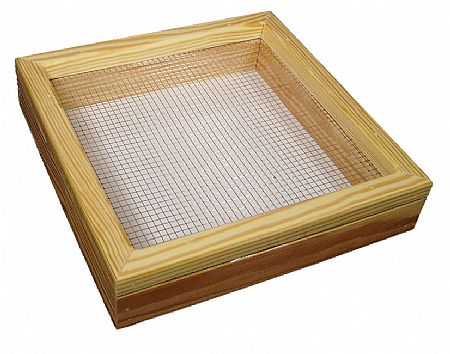 Stainless Steel Screen, 4 Mesh, Framed
Sturdy wooden framed stainless steel screen.
Dimensions:
Outer: 12-1/4" square x 2-5/8" thick
Inner: 10-1/4" square
Depth: 1-3/4" on one side, 3/4" on the other
.028" Diameter 304 welded stainless steel wire
Makes 1/4" stars (3/8" after priming).
In addition to making screen sliced stars, 4 mesh screen is used in conjunction with a 10 mesh screen to make 2FA granulation black powder. 
These screens are made of the highest-quality type 304 stainless steel. They come to you mounted in rugged wooden frames ready for use. These are made to our specifications by a local craftsman here in the USA and should last you a lifetime.
The 304 stainless steel screening is heavier and thicker than most screens currently sold. This extra strength is necessary to hold up to the heavy weights and pressures put on these screens by serious fireworkers.

They are also almost impervious to the corrosion from oxidizers and metallic chlorides. These chemicals will destroy most other metals very quickly through rust and corrosion.

Take care of your screens by brushing and washing them off after use. Then just air dry them. The pine frames come unfinished.
Part #TL2049