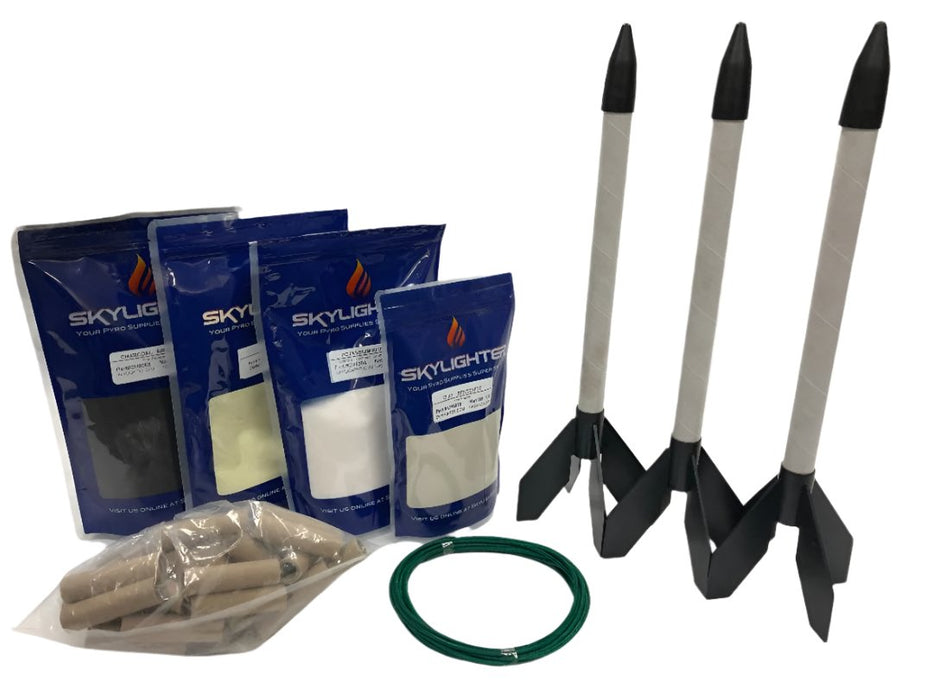 This is a refill kit for our Model Rocket Kit. It contains everything in that kit, except the tooling.
Each kit contains enough supplies to make 50 motors and 3 reloadable rockets:
- Rocket Fin Lg. 3 Pack (#PL3021)
- Nose Cone Lg. 3 Pack (#PL3024)
- 0.9" OD x 12" Length x .095" 3 Pack (#TU2241)
- Potassium Nitrate, 2 lbs. (#CH5304)
- Airfloat Charcoal, 1 lb. (#CH8068)
- Sulfur, 1lb. (#CH8315)
- 4 oz. Parallel Tubes, 50 (#TU1027)
- Bentonite Clay, 1 lb. (#CH8078)
- Visco Fuse, 30 ft. (#GN1008)

You save 20% off the retail prices of the individual components when you buy this kit.
You can use hand-made black powder rocket propellant with this kit (but be sure and follow our project instructions closely). You definitely do not need a ball mill. 
To learn more about making Model Rockets, check out our awesome projects and tutorials. 
How To Make A Model Rocket Engine
Everything You Need To Know About Making Rockets!
Part# (TL3323)