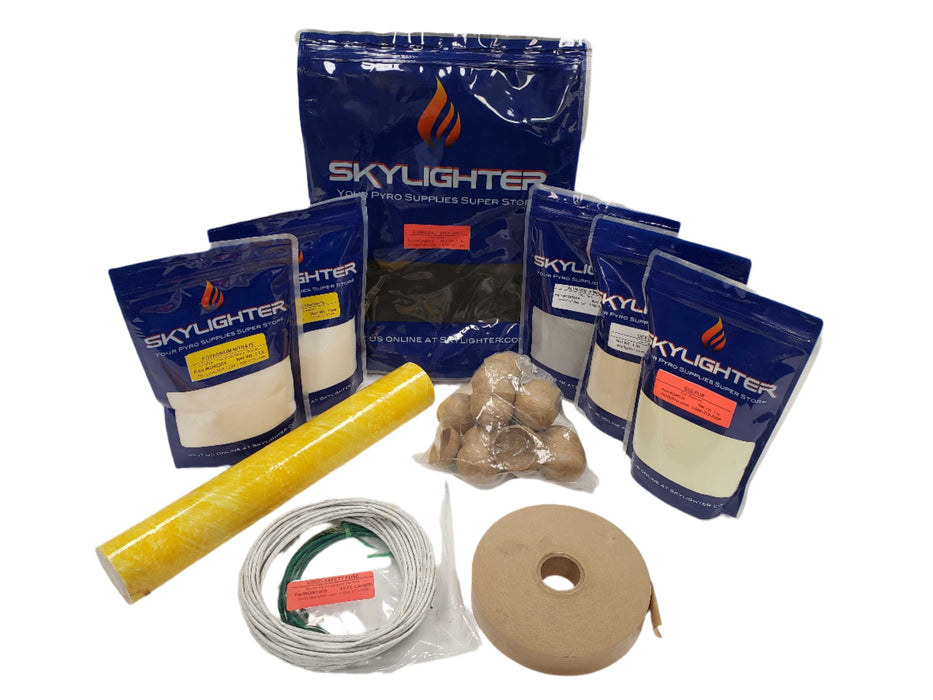 Make your first aerial shells from start to finish faster then you ever thought possible! This kit uses paper shells which you'll learn to paste with gummed paper tape.
The stars and shells which you'll make produce a beautiful glitter effect. These are real fireworks made just like the pros build, but on a smaller scale.  This kit is a great place to learn the art of fireworking.

You get enough materials to make 40, festival ball, D1 glitter shells.

All you have to do is supply the black powder or make your own using our Red Gum Black Powder Kit or Black Powder Chemicals Kit.

Each Kit Contains:
Potassium Nitrate (1 pound)

Air Float Charcoal (1 pound)

Sulfur (1 pound)
Atomized Glitter Aluminium (1 pound)
Sodium Bicarbonate (1 pound)
Dextrin (1 pound)
1.91" Fiberglass Mortar Tube (1 ea.)
Visco Safety Fuse (20 ft.)
Fast Fuse (40 ft.)
Paper Shells 1.75 Dia. (40 sets)
Gummed Paper Tape 1 inch width (1 roll)
The kit comes with detailed instructions showing you how to quickly and easily assemble amazing D1 Glitter shells that are sure to wow!
D1 Glitter Festival Ball Instructions!
Part #KT0023